Rega Saturn / Apollo Upgrade Kit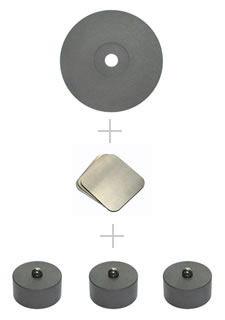 Click image for larger view.
Please note: This kit is a discontinued product. It is listed here for archive purposes only.
We're proud top offer the first and only complete kit for upgrading Rega's outstanding Apollo and Saturn CD players. Consisting of our new CD Stabilizer, heavy stainless steel plates, and your choice of two TuneBlock Series 2 models, this kit makes dramatic improvements in focus, clarity, extension, and smoothness. Guaranteed.
The heart of the kit is the new Boston Audio Design CD Stabilizer ($149 retail). Made from a specialized form of isostatically molded graphite with particle sizes under 5 microns, our new CD Stabilizer represents the pinnacle of disk dampening technology. Just 1.2mm thick and CNC machined to tolerances within 0.0005", the mat absorbs mechanical vibration and enhances speed stability, revealing a more relaxed and airy presentation that you may have though possible from a digital source.
Designed to be placed between the component enclosure and the TuneBlock bearings, our new 14 gage heavy stainless steel plates ($49 retail) work to dampen the enclosure and to assist in channeling component vibration into the TuneBlocks. The plates are especially important with Rega products with the dimpled metal finish.
Finally, TuneBlocks are the award-winning component support that are setting new standards in performance and value. If you are not already familiar with our popular TuneBlock line, please visit the TuneBlock webpage.
When purchased as a complete kit, pricing represents discount of over 15%!
What customers say...
"I received the Apollo kit and have been listening for awhile and I just can't believe how much better it makes the Rega sound! Across the board better in every way-the soundstage got deeper, wider, and taller. The music is a lot clearer and I can hear so much more information now on each and every CD. It took this player to a whole other level. It made such a big difference and I am really, really impressed at your product. Thank you so much!"

Geoff Hardcastle
Customer